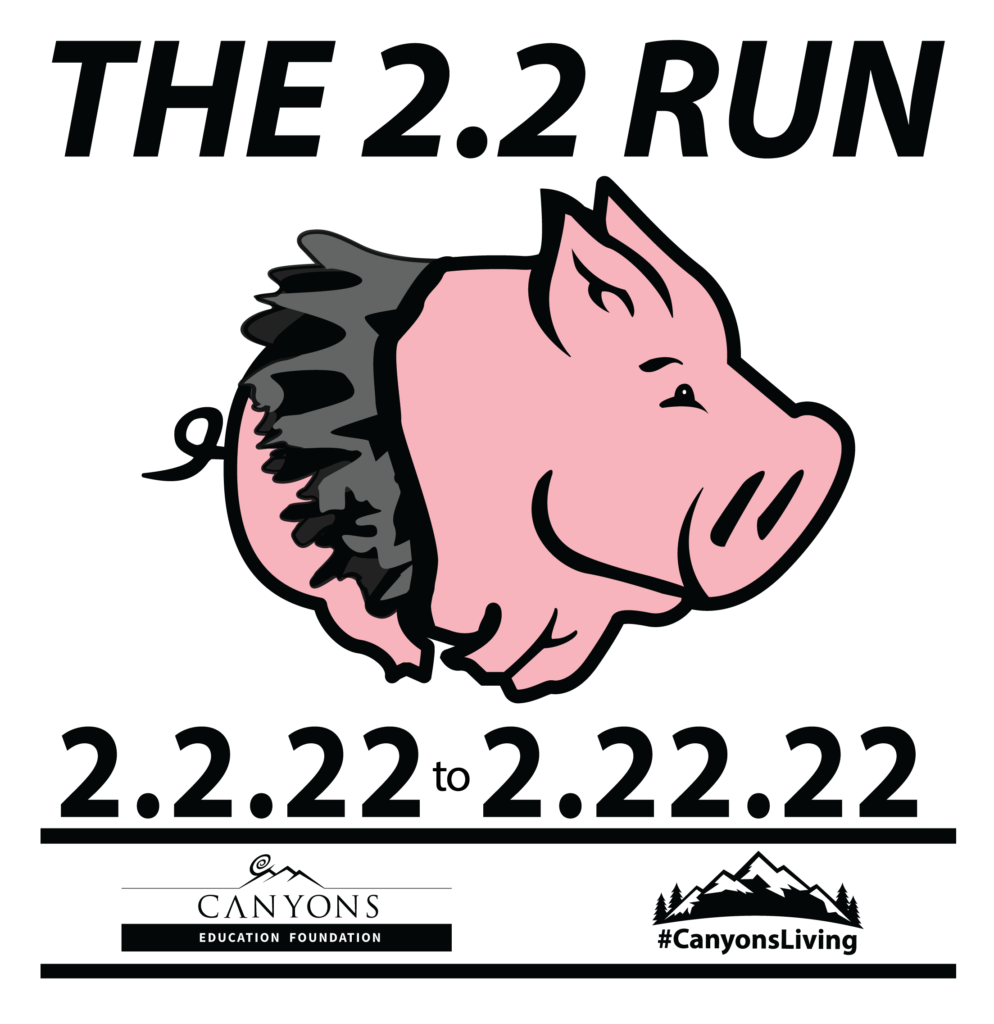 Teachers and students need your support more than ever, and we have a fun way to do that. The Canyons Education Foundation will match all money raised from The 2.2 Run — tutus optional — to help Canyons District teachers obtain classroom supplies from projects they select on DonorsChoose.org. Some proceeds will also be used to honor the Canyons Teacher of the Year.
Your $22 registration fee gets you a #CSD22RUN logo T-shirt and running bib. 
Post a photo on social media, adding the #CSD22RUN hashtag, for a chance to win additional prizes. 
$22 registration fee includes: 
T-Shirt 
Running Bib
Opportunity to be entered into a prize drawing. * 
Tutus are optional and available for sale from Canyons Education Foundation — first come, first serve. They'd be fun to wear with your awesome 2.2 T-shirt!
Encourage others in your school or department to run/walk with you. 
Snap a photo of yourself and post on social media with #CSD22RUN (FB, Insta or Twitter). 
Enjoy the satisfaction of participating while supporting CSD Teachers and Students. 
Thank you so much for your generous donation! My students and I really appreciate it!!
We met our goals. Thank you so much for all of your donations and help. My students are going to be so thrilled when they open up these boxes and see all of the amazing things that we now have to help them meet their sensory needs. Thank you again for your donations. With gratitude,
There are many ways we are able to use our Boogie Boards which are LED blackboard screens that light up the words or whatever is written with the stylus. My students in the Accommodated Core Autism Cluster classroom LOVE technology! These Boogie Boards are used to help the students with spelling words, taking notes from direct instruction and practicing math facts or computation... Thanks for providing us with technology tools that make the learning fun! With gratitude,
I am so excited to announce that our project has been funded. I cannot wait to deliver the news to my students. I am beyond grateful for your support. With your support I will be able to provide my students with the very best learning environment. I appreciate you helping me help the most amazing 3rd grade kids out there." With gratitude,
Dear Canyons Education Foundation, Thanks to your generous donations, when the students walked in this morning there were 2 large boxes from Amazon. The students were naturally curious, so I asked them to open the boxes and find out what was inside. They were astonished when they found 4 new finish nail guns. I told the students that these are the finest finish nail guns on the market today and that thanks to the generosity of our donors, we now have good nail guns. These really open up the possibilities for our projects. The afternoon class immediately wanted to try them out. We quickly built some pallet flags and a couple of students grabbed some paint to finish them off. Overall, it was a great first project." With gratitude,
Dear Canyons Education Foundation, I am so thrilled that this project was funded, all thanks to you! This book that I requested, The Magical Yet, will be so great to give the kids this year because it reinforces having a growth mindset, which is something we're really trying to teach these little second graders. Thank you for making it happen! With gratitude,
Dear Canyons Education Foundation, Thank you so much for your very generation donations! We couldn't have done it without you. From the bottom of my heart, thank you! Students now have the ability to utilize our new book collection anytime they want. They now have a wide variety of book options and collections because of you. When our materials arrived in our class room, students could not wait to see the materials! They have been a great addition to our classroom! Thank you again for your donation. Words cannot express how very grateful we are for you! With gratitude,
Dear Canyons Education Foundation, Your generosity is overwhelming! My students will get to have hands-on experiences and explore learning in a way that they could not have done if it were not for your care and generosity. I am excited to watch my students enjoy learning in a way they have not gotten to before. You make a difference! With gratitude,
Dear Canyons Education Foundation, Oh my goodness! Thank you so much! I am also so grateful to give my students options in self-regulating. How great is it that students can manage anger and/or frustration on their own and be successful rather than resorting to other more violent or aggressive means. This will surely be a game changer in our classroom! With gratitude,
Dear Canyons Education Foundation, Thank you so much for helping get this school year off to a wonderful and wiggly start. I am so grateful for your generous donation to my classroom. I am so excited to see how having more options for flexible seating will impact the learning and growth of my students. Thank you for your kindness and for your awesome donation. With gratitude,